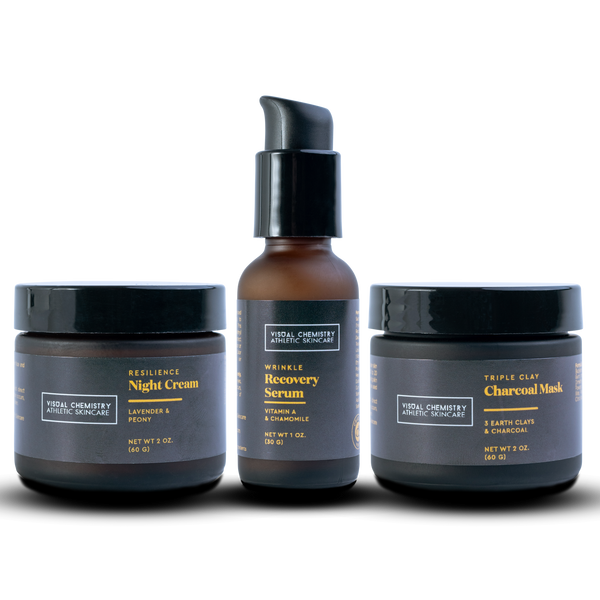 Visual Chemistry Skin Night System
This product is currently sold out.
Description
Visual Chemistry Skin Night System
Give your skin a goodnight kiss with our complete Night System. The Night System includes the Wrinkle Recovery Serum, the Hydrating Night Night Cream, and our Triple Clay Charcoal Mask.
Direction
Apply 1-2 pumps of the Wrinkle Recovery Serum to a cleansed face and neck. Massage gently until fully absorbed. Use as a primer before applying the Night Cream. With the Charcoal Mask, choose 1 or 2 days out of the week to apply it. Spread the clay evenly over your face and let it dry for about 20 minutes. You will notice that the clay changes to a lighter color and stiffens when it is dry. Wash off the mask with warm water and apply the Wrinkle Recovery Serum along with the Night Cream immediately after.
Review
Customer Reviews
01/20/2021
Hiral A.

Canada
Soooo good !! Must try !!
I have tried most of the famous brands and have such bad breakouts, I have never been able to use any skin care items until I came across this line. The amount of black heads and white heads I had all gone scrub is gentle yet effective I now understand why Kris uses it so frequently . Charcoal mask is just amazing must must try. The night cream smells so good and is instantly absorbed. Retinol serum Is something I am waiting to see results (12 weeks ) as I have used all the products over four -five weeks. I finally have a skin routine and my husband loves this line of products too. We have biweekly skin care routine that we look forward too.
06/18/2020
Jeffrey G.

United States
Night System
Excellent Products! My skin quality has never been better. My husband and I love Visual Chemistry Athletic Skincare.
01/02/2020
Laura W.

United States
Wow!!! This is great stuff!
This was a gift for my boyfriend who saw the charcoal mask on someone his follows on IG. Bought him the set for Xmas and he was surprised. He is new to the whole taking care of his face thing but turns 40 in a month so suddenly got an itch to. He loves it!!! All the items especially the night cream smelled amazing and the mask made a noticeable difference,still waiting to see results from the serum but I know those take time. Will buy again !
12/19/2019
Shad H.

United States
Dry Skin Gone
The skin care routine is amazing. No more dry flaky skin, blackheads are non-existent and have received many compliments on the absence of these.
09/05/2019
Danielle N.

United States
Great products!
I have noticed in just one week brighter and tighter skin. Dark circles under my eyes are less noticeable. The night cream is one of my favorites because it has lavender in it and it actually helps me fall asleep! Over all my skin looks so much healthier