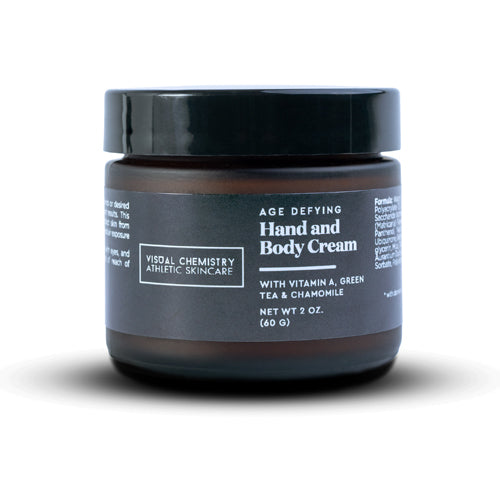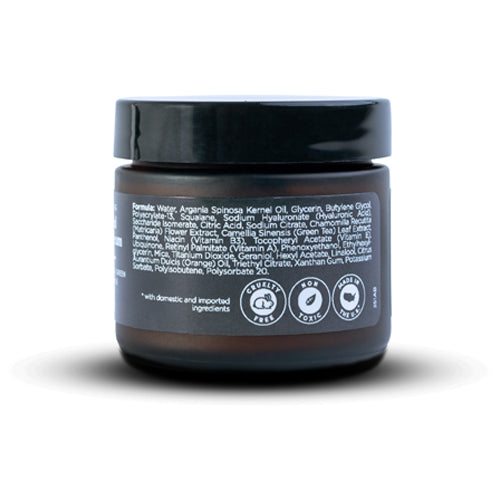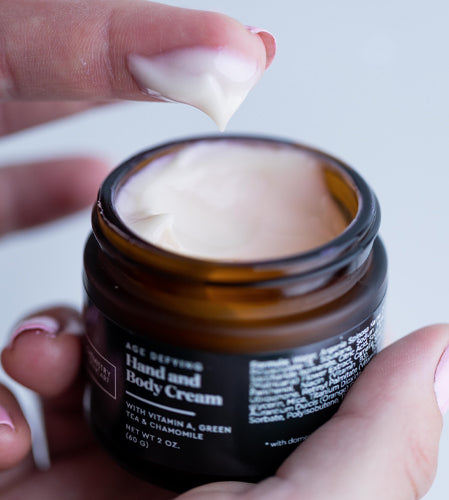 Age-Defying Hand and Body Cream
This product is currently sold out.
Description
Age-Defying Hand and Body Cream with Retinol and Green Tea and Chamomile
What is it?
Restorative smoothing cream for hands and neck 
What does it do?
Helps reduce the appearance of wrinkles on your hands and neck. 
Visibly firms age-prone areas
Improves skin elasticity
Brightens & reduces discoloration
Stand-out Ingredients:
Retinol*
Argan Oil
Chamomile 
Tell me more…
Due to constant exposure, skin on your hands and neck become damaged and therefore become the first place to show signs of aging. The Visual Chemistry Skin Age-Defying Hand Cream smooth's aging skin and visibly reduces the appearance of hand and neck wrinkles while providing long-lasting moisture during times of physical stress and perspiration with the use of Argan Oil, Green Tea, and Vitamin B3. 
This deep-moisturizing, quick-absorbing cream is a staple for all mature signs of aging skin. It's Retinyl Palmitate (Vitamin A) and Chamomile leaves hands and body baby-smooth, while visibly reducing the appearance of décolleté wrinkles and providing dramatic, soothing and brightening results.

This restoration cream is also a great solution for the protection and prevention-conscious.
 *Note for first timers and those of you with sensitive skin...  
The Age-Defying Hand Cream has the active ingredient of RETINOL, which is amazing for anti-aging, but can also cause redness and a tingly feeling if you have never used it before or if your skin is very sensitive. This is normal. This doesn't mean you shouldn't try it! This is why we recommend using it before you go to bed instead of at the start of the day. Start out with a very thin layer at night and see how your skin reacts. If your skin does turn red and feels a little hot remember, that is normal! It will go away. Use it again at night in small doses until your skin adapts to the Retinol. If you have any questions or concerns please email us at info@visualchemistryskin.com. 
Ingredients
Water, Argania Spinosa Kernel Oil, Glycerin, Butylene Glycol, Polyacrylate-13, Squalane, Sodium Hyaluronate (Hyaluronic Acid), Saccharide Isomerate, Citric Acid, Sodium Citrate, Chamomilla Recutita (Matricaria) Flower Extract, Camellia Sinensis (Green Tea) Leaf Extract, Panthenol, Niacin (Vitamin B3), Tocopheryl Acetate (Vitamin E), Ubiquinone, Retinyl Palmitate (Vitamin A), Phenoxyethanol, Ethylhexylglycerin, Mica, Titanium Dioxide, Geraniol, Hexyl Acetate, Linalool, Citrus Aurantium Dulcis (Orange) Oil, Triethyl Citrate, Xanthan Gum, Potassium Sorbate, Polyisobutene, Polysorbate 20.
Direction
Apply in small amounts to the hands, fingers, and cuticles. Massage in circular motions. Can also be used on the neck and chest. PLEASE NOTE: The active ingredient in this product called Retinyl Palmitate is amazing for anti-aging, but can also be harsh on sensitive skin. If you have sensitive skin please use only a very small amount on one side of your face to see how your skin reacts, and then gradually increase how much you use on your face as your face adapts. A little redness at the beginning is normal.
Review
Customer Reviews
12/13/2021
Peter L.

United States
I recommend this product
Hand And Body Creme!
Great product for the last thing I put on before I'm out the door. Great for arms and hands, great smell and lasts.
11/22/2021
jason K.

United States
I recommend this product
Best lotion for younger looking skin
I used to use this for my face when it was called daily face cream and absolutely loved it.Then they took out the retinol and made a new face cream that was new and improved for daytime use, and made this for hands and body instead.I still use this product for my face because I love how it gives me a great complexion on my face and smoother looking skin. Great product.
04/22/2020
Savannah D.

Canada
Loving this product
Started the retinol day cream about a week ago and already noticing my skin look clearer and feel healthier. The product smells good, feels nice on the skin and a little goes a long way. My skin did get quite red and tingly the first day I started using the cream, which I was warned it would probably do, but after a week my skin has already adapted to the retinol and it just feels great.
03/04/2020
David B.

United States
Restore day cream
Great product! It keeps my skin feeling great and not dried out all day!
12/20/2019
James N.

United States
Great Stuff That Actually Works
I'm always skeptical of anything that claims to help your skin look younger and more elastic. Restore Cream, however, does just that. The clinical-stregnth retinol does the trick while the other ingredients balance the whole effect out. Great stuff!