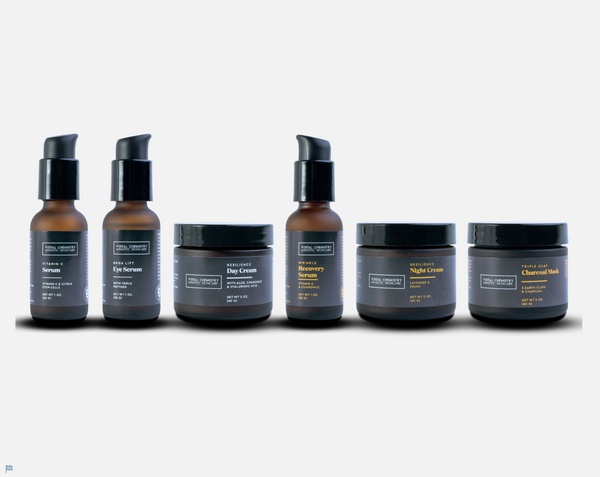 Visual Chemistry Skin Complete System
This product is currently sold out.
Description
Visual Chemistry Skin Complete System
Want to give your skin the support it needs day and night? Check out our Complete Skin System. The Complete Skin Bundle includes the Day system (Mega Lift Eye Corrector Serum, Vitamin C Serum and Resilience Day Cream) and the Night system (Wrinkle Recovery Serum, Resilience Night Cream, and Triple Clay Charcoal Mask).
Direction
In the morning… After washing your face in the morning, apply the Mega Lift Eye Corrector Serum around your eyes before applying the Vitamin C Serum. Place one small drop of eye treatment onto the fingertip and gently pat around the eye. Dispense another drop for the other eye. Once you have applied the Mega Lift Eye Serum, place 1-2 pumps of the Vitamin C Serum in your hands and spread evenly around your face, making sure to blend in well. Once the Vitamin C Serum is applied you can now put the Resilience Day Cream on your face. A little goes a long way, but if you have any extra spread the rest of the Restore Cream on your neck. In the evening… Apply 1-2 pumps of the Wrinkle Recovery Serum to a cleansed face and neck. Massage gently until fully absorbed. Use as a primer before applying the Nightwear Cream. With the Charcoal Mask, choose 1 day out of the week to apply it. Spread the clay evenly over your face and let it dry for about 20 minutes. You will notice that the clay changes to a lighter color and stiffens when it is dry. Wash off the mask with warm water and apply the Wrinkle Recovery Serum along with the Nightwear Cream immediately after.
Review
Customer Reviews
100
reviewers would recommend this product
Write a Review
I recommend this product
My go to skin routine
The products smell amazing and feel light and moisturizing on my skin. I have always had a hard time sticking to a full skin routine because there was always one part I didn't like how it felt or didn't like the process. I have been using visual chemistry for about 3 years now. Love it!!
12/14/2021
Kami M.

United States
I recommend this product
Complete system
I've been a Mary Kay consultant for 25 years and only used Mary Kay due to sensitive skin. Visual Chemistry is hands down the best skin care I've ever used. It leaves my skin feeling clean and smooth. I love the smell. It's not so over powering that I can't sleep. Definitely a customer for life and well worth the price.
10/12/2020
Nicholas L.

United States
Great product
Went all out and bought the entire lineup. It was worth every penny. Lasted longer than I thought, so it was worth the money and definitely felt the difference after using this line.
03/15/2020
Theodora P.

United States
Great Products
As someone who regularly suffers from acne, I can appreciate the quality of these products. When I ran out of them last time, I noticed and increased of breakouts. When I started using them again, I noticed my acne improve. These products work! And I love how they smell and feel on my skin.
01/11/2020
Jeff O.

United States
Bags be Gone!
All of the products are great but I especially like the eye corrector. It is almost like you can feel it working. Sometimes I struggle with sleep and now nobody will notice! The night cream is probably my second favorite with how it smells and how much it moisturizes.