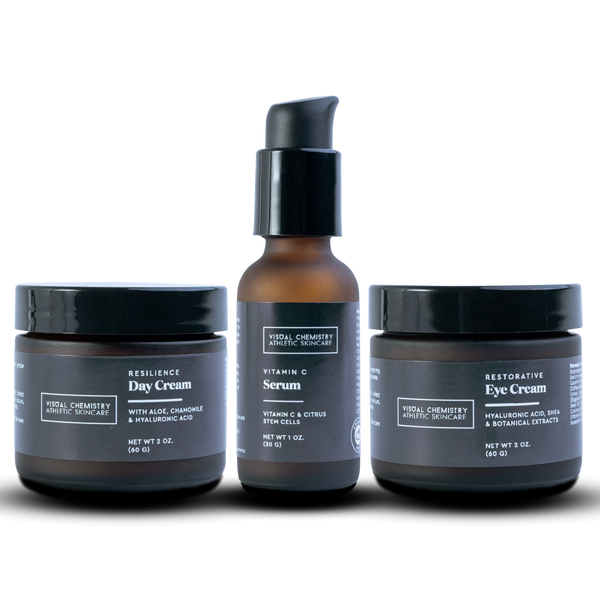 Visual Chemistry Skin Day System
This product is currently sold out.
Description
Visual Chemistry Skin Day System
Get your face primed and ready to take on the stresses of the day with our complete Visual Chemistry Skin Day System. This includes the Resilience Day Cream, Vitamin C Serum, and Mega Lift Eye Serum.
Direction
After washing your face in the morning, apply the Mega Lift Eye Corrector Serum around your eyes before applying the Vitamin C Serum. Place one small drop of eye treatment onto the fingertip and gently pat around the eye. Dispense another drop for the other eye. Once you have applied the Eye Serum, place 1-2 drops of the Vitamin C Serum in your hands and spread evenly around your face, making sure to blend in well. Once the Vitamin C Serum is applied you can now put the Day Cream on your face. A little goes a long way, but if you have any extra spread the rest of the Day Cream on your neck.
Review
Customer Reviews
I recommend this product
Worth every penny
I have been using this product for a while now and it leaves my skin looking fresh and feeling smooth. It has helped keep my skin clear, reduce some dark sun spots as well as give my skin an overall even skin tone. The eye serum helps with my morning under eye puffiness. I am extremely happy with the products and will continue to use them.
02/02/2021
Laurie S.

United States
Loving so far!
I've been amusing for about 2 weeks and I couldn't be more pleased. I can not wait to purchase more products.
05/26/2020
Jose B.

United States
Awesome products
Great quality and ingredients, a must try for anyone looking to improve their skin 5 ⭐️
02/19/2020
Holly M.

United States
Great product
I have been using Visual Chemistry for four months and love the product! My skin looks and feels great and I feel comforted knowing that I am using a product with natural ingredients.
02/10/2020
Laura W.

United States
Good stuff
So far so good . Already had the night set and wanted to add to the regimen. It's working well